Mystique's Manolete (2003)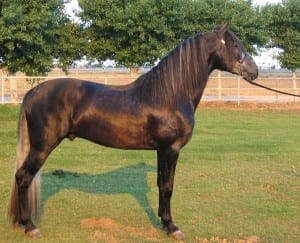 Mystique's Manolete is an outstanding Cria Caballar approved PRE stallion. His beauty, strength and conformation, and his superbly elevated movement, are what make him the superstar that he is. Shown at halter as a yearling, two-year old and three-year old at the 2004, 2005 and 2006 Canadian Andalusian Shows, Manolete already has three Grand Champion titles and three Gold Medal Best Movement awards to his credit. He also won first place for In Hand Sport Horse, Three Years and Under when he was a two-year old as well as 1st place for In Hand Trail Class Two-Years and Under at those same shows, impressive results for such a young stallion.
Manolete outdid himself in 2007. With his excellent conformation, incredible movement and willing mind and only 15 rides prior to the show, Manolete and his rider Mr. Sven Smienk won 8 National titles and 2 Canadian National High Points, including the following:
National Champion Andalusian Junior Stallion
National Champion Andalusian Dressage Suitability Open
National Champion Andalusian Dressage Suitability Youth
National Champion Andalusian English Pleasure Junior Horse·
National Champion Andalusian English Pleasure Youth
National Champion Andalusian Stallion 4 and over – Amateur to Handle
National Champion Andalusian Pure/Part Training Level Test 2
Reserve National Champion Andalusian Junior Horse Dressage Suitability
Canadian National Champion Andalusian Horse High Point of Show
Canadian National Champion Andalusian Horse Youth High Point of Show
Hot new show results! As of June 2008, Manolete has won two more champion titles. In April he won the Championship title for Training Level Dressage in Kelowna, BC. In June he won the Championship title for 1st level dressage at the Thunderbird Equestrian Centre "Touch Of Class Dressage Show" with scores in the 70′s
Manolete's sire, Sandokan , is a four-time winner at the IALHA nationals in Texas including two National Champion and two Reserve National Champion Halter titles. His dam, Mystique's Leyenda , is also a multi-title winner, including Grand Champion Filly 2000 IALHA Region 2, Top Five Filly at the 2000 IALHA US Nationals and Grand Champion Senior Mare and Gold Medal Movement at the IALHA PAAHL Canadian Show in 2005. In addition, Manolete's grand-dam Linda was the first horse ever to win Grand Champion Filly as a yearling at the 1992 IALHA US Nationals as well as 1997 Reserve Champion Mare at the IALHA US Nationals
Manolete is currently standing 16.2 HH with huge bone and great lines. We expect him to finish growing at 16.3 HH by age six or seven as he fills out into the magnificent mature stallion we expect he will be. Manolete has been fully schooled for halter by Warren Mather, one of the top Andalusian Halter trainers in North America with more than 80 National titles to his credit. Manolete is currently training for 2nd level dressage at Southlands Equestrian Centre, Vancouver, BC with his rider Sven Smienk.
Manolete is now standing at stud for both live cover and AI. He has been fully screened for AI quality and shipping viability with excellent results. Stud Fee $1,800 Pure Andalusians, $1,500 all others plus GST (where applicable). Collection costs and shipping costs are at mare owner's expense. Video is available on request. .
Watch for Manolete this July at the Canadian National Andalsuian Show in Chilliwack, BC and in August and September at the Southland's Dressage shows. Manolete will also be strutting his stuff this October at the US National Andalusian Horse Show in Fort Worth, Texas