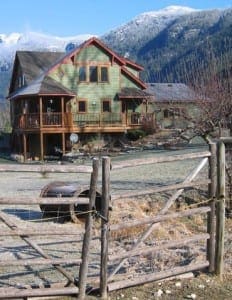 Owned and operated by Dr. Anne Starr and Brian Rehwald, Valhalla Andalusians home is a 45-acre farm situated at the southern end of the beautiful Slocan Valley near Nelson, British Columbia, Canada. Nestled in a broad curve of the Slocan River in the fertile valley bottom and surrounded by the lush wilderness of the rugged Valhalla and Airy Ranges of the Selkirk Mountains, we are truly in a heavenly place.
In this stunning environment we breed, train, show and sell Pura Raza Española (PRE) Andalusian and Andalusian cross horses. We also offer stud services to outside mares. Life is very good here on the farm and all of our animals lead an enviable existence. They are fed the organic hay we grow on our farm, drink the fresh water that cascades down the mountain slopes above and run free in our green pastures from spring until fall.
Valhalla Andalusians is a Proud Member of:
IALHA (International Andalusian and Lusitano Horse Association)
PAALH (Pacific Association of the Andalusian and Lusitano Horse)
CAPREH (Canadian Association for the Pura Raza Española Horse)
Valhalla Andalusians is recognized by the Jafatura de Cria Caballar (Spain) as a registered breeder of Pura Raza Española (PRE) horses.