About Valhalla Andalusian Breeders
Owned and operated by Dr. Anne Starr and Brian Rehwald, Valhalla Andalusians' home is a 45-acre farm situated at the southern end of the beautiful Slocan Valley near Nelson, British Columbia, Canada. In this stunning environment we breed, train, show and sell Pura Raza Española (PRE) Andalusian and Andalusian cross horses. We also offer stud services to outside mares.
Nestled in a broad curve of the Slocan River in the fertile valley bottom and surrounded by the lush wilderness of the rugged Valhalla and Airy Ranges of the Selkirk Mountains, we are truly in a heavenly place.
Life is very good here on the farm and all of our animals lead an enviable existence. They are fed the organic hay we grow on our farm, drink the fresh water that cascades down the mountain slopes above and run free in our green pastures from spring until fall.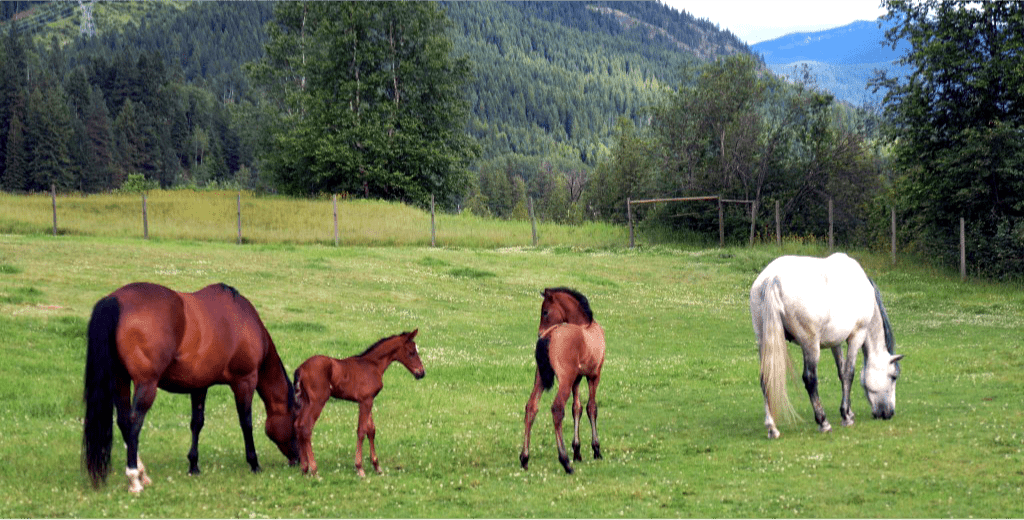 Our Breeding Program
Here at Valhalla Andalusians we pride ourselves in being the best breeders that we can possibly be. We started out small and had the philosophy to always "buy big" and "breed up" to the point that all of our current breeding stock have either produced National Champions or are themselves National Champions. The beauty and talent that we have in our barn now is incredible . We've always believed that to produce top quality offspring you have to have both talented and beautiful mares and talented and beautiful stallions. Their temperaments are crucial for producing that riding partner that always gives 110%.
We currently have one breeding stallion standing at stud, VA Manolete's Hijo Amado, son of our foundation stallion and international dressage champion, Mystiques Manolete. Amado was the 2010 US National Reserve Champion in halter and here in Canada he was the 2014 National Champion Jr. Stallion and Gold Medal Movement winner. Amado and has already produced the 2013 Canadian National Supreme Halter Champion colt in his first foal crop (VA Alejo).
We also have eight Andalusian brood mares of which six of them are either US or Canadian Multi-national champions or both. The two mares that haven't been shown to a National title are OA Sienna (she has never been shown but has produced five national champion foals) and VMF Gema Preciosa (she broke her hip as a yearling preventing her from being shown but is a very happy brood mare). We have also decided to have VA La Duquesa enter the brood mare ranks when she is of age as she is absoluetly stunning. She was the 2014 National Champion Filly, 1 and Under and Gold Medal Movement winner.
We have been blessed with 6 pure Andalusian foals for 2015. 4 fantastic colts and 2 very elegant fillies
For more information on any of these horses and their pedigrees please refer to the individual pages for each horse where you will find full biographies, photos and video links.