History of the Spanish Horse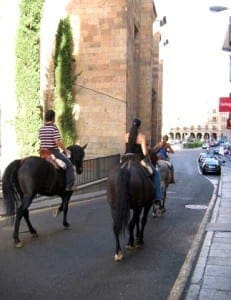 Often referred to as the Iberian Horse and the Horse of Kings, Andalusian and Lusitano horses have captivated the hearts of painters and sculptors for centuries with their strong yet graceful lines. These proud military and bullfighting horses of Spain and Portugal (the Iberian Peninsula) are primarily known for their powerful impulsion, dynamic athleticism, strength, endurance and intelligence, but they are also noted for their kind and gentle nature.
In 1667 the Duke of Newcastle wrote of the Andalusian "It is the noblest horse in the world, the most beautiful that can be. He is of great spirit, courage and docility; hath the proudest trot and the best action in his trot, the loftiest gallop, and is the lovingest and gentlest horse; and fittest of all for a king in his day of triumph."
At Valhalla Andalusians we are committed to maintaining the foundation traits of the Andalusian horse. We are dedicated advocates for the Spanish horse and see the potential for the breed to make great inroads into many equestrian disciplines. Hopefully you'll have the opportunity to spend some time with an Andalusian horse and you'll see why Spanish horse owners around the world are so captivated by this beautiful breed.