Quarter Horse Mares
Tivio Jack's Ms Holly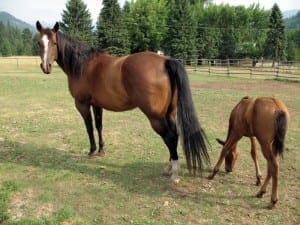 Holly is a gorgeous Bay AQHA mare.  Her dam is our mare kd and her sire is Mister Dress Up.  We mixed working QH lines with halter QH lines to get the best of both with this mare.  Her dam's side includes King Leo Bar and Poco Bueno and her sire's side includes greats like Two-eyed Jack, Obvious Conclusion and Impressive.  Holly is HYPP double negative.  Holly was sold and then bought back which thrilled me to bits.  Holly's beautiful list of Azteca foals include:
VMF Tivio Escudo De Armas, VMF Arquero, VMF Sorpresa, VMF Agosto's Poca Diamante and in 2018 – a gorgeous filly named VA Mariquita
Dial A Tivio
KD IS DECEASED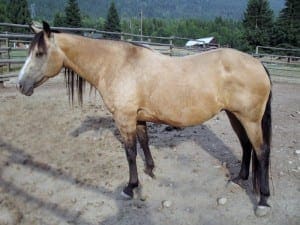 "KD" is a buckskin AQHA mare that we purchased in 1998 to be one of our foundation broodmares.  She is has amazing bloodlines from working quarter horse stock.  With names like King Leo Bar and Poco Bueno as her great grandfathers we knew she would be a winner.  KD was given to our dear friend, Anne Volanski, where she continues to produce amazing Azteca and AQHA foals.
She gave us a number of beautiful AQHA foals of all colours as well as one Azteca foal.
Her foals are:
Tivio's Two Mooned Jack (AQHA) chestnut
Tivio Jack's Ms Holly (AQHA) bay
Miles Over Tivio Jack (AQHA) palomino
Tivio Jack's Mr Porter (AQHA) chestnut
Tivio Jack's Ms Enya (AQHA) buckskin
VMF Tivio's Sr Jackson (Azteca) bay
Tivio Jack's Ms Enya
Enya has been sold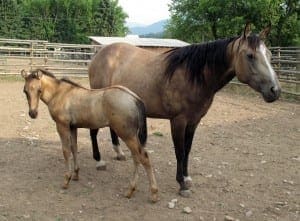 Enya is a beautiful Buckskin AQHA mare.  Her dam is our mare KD and her sire is Mister Dress Up.  After getting such lovely foal when we got Holly, we did the cross again and produced our sweet little Enya.  What an amazing blend of working QH lines and halter QH lines.  As with Holly, we got the best of both worlds.  Her dam's side includes King Leo Bar and Poco Bueno and her sire's side includes greats like Two-eyed Jack, Obvious Conclusion and Impressive.  Enya is HYPP double negative.  Enya now resides in Alberta with her new owner, Nettie Barr of Canadian Natural Horsemanship where she is happily producing more beautiful babies.
Enya'a list of Azteca foals include:
VMF Valiosa Unica (Buckskin Azteca)
VMF Estrella Brillante (Buckskin Azteca)