Triana Foals
VA Aragon
VA Aragon is a beautiful 2015 Gray Andalusian colt.  His dam is VA Manolete's Triana, our Canadian multi-national champion mare in halter, movement and performance.  His sire is Mystique's Padrino.  This is the first foal from Triana and what a show stopper!  His conformation, movement and temperament are second to none.  He will be at least 16 HH and based on his dam and grandparents, his potential for dressage will be outstanding.
Aragon has been sold
VA Sueño De Ayer
2017 Grey Andalusian Filly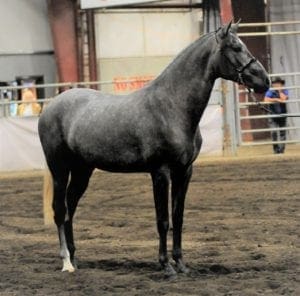 This lovely grey 2017 Andalusian filly is by US Multi-national Champion Stallion Escamillo and out of our Canadian National Champion Sr Mare and Multi-national Champion in performance – VA Manolete's Triana.  Ayer has very nice conformation excellent movement with a nice ground covering trot.
AYER WAS THE 2019 PAALH AUCTION FILLY.  SHE WAS AUCTIONED OFF AT THE CHILLIWACK HERITAGE PARK, CHILLIWACK, BC WITH ALL PROCEEDS GOING TO PAALH.
VA Cortesa
2018 Grey Andalusian Filly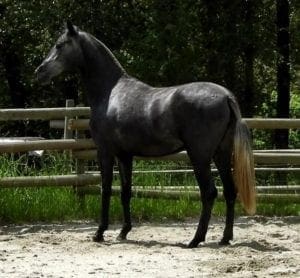 VA Cortesa is an excellent 2018 Andalusian filly.  Like her half sister and brother (Cadencia and Elevado) Cortesa has very correct conformation and beautiful movement.  Her dam is our 16HH Canadian Multi-National Champion mare VA Manolete's Triana and her sire is our US and Canadian Multi-National Champion 16.3HH Grey Andalusian stallion Norteño Rey MA.  Norteño's is putting his stamp on all his foals which is apparent as soon as they start to move!  Granddaughter to Escamillo and great granddaughter to Sandokan and Ocioso, this girl has it all.  She was born to be in the dressage ring.  She is very kind and friendly and she will be big – at least 16 HH.  DOB – April 19, 2018
CORTESA HAS BEEN SOLD!  CONGRATULATIONS TO BRITTA OF MIAMI BEACH, FLORIDA