Ysabela Foals
VA Mi Poca Manzana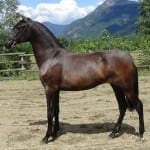 VA Manolete's Ysabela and Mystique's Padrino gave us a stunning filly: VA Mi Poca Manzana.
Manzana was the 2015 Canadian National Champion Andalusian/Lusitano Filly (1 year and under) and Gold Medal Movement Winner.  Good job Manzana.
SOLD Manzana has been sold to Jessica Berryman of Canton, Georgia.  Congratulations on your purchase of this outstanding filly – let the love affair begin !