Gema Preciosa Foals
VA La Cristal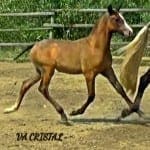 VA La Cristal is out of our lovely mare, VMF Gema Preciosa and by Mystique's Padrino. This PRE filly is a very rare find!!  She is very elegant and an outstanding mover showing extensions well beyond her 2 1/2 months of age.  She will be an exceptional dressage prospect with a great mind.  DOB:  June 1st.  VA Cristal is for sale for $10,000 CAD
Sold – Congratulations to Melissa Scott of Salida, Colorado on her purchase of this lovely filly with such incredible movement.  They will go far !
VA Pura Vivaz
2016 Grey PRE Filly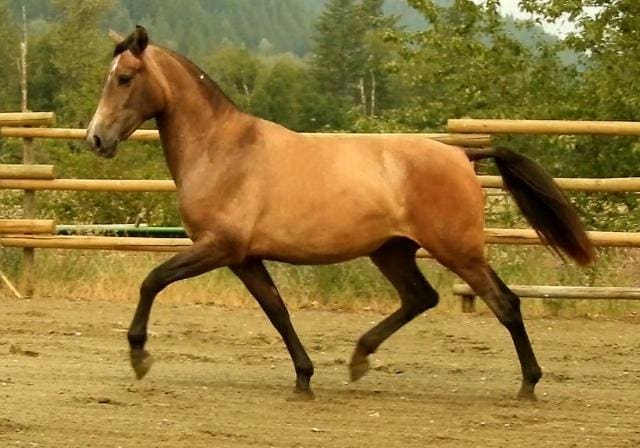 This gorgeous grey 2016 PRE Andalusian filly is out of our lovely mare VMF Gema Preciosa and by National Champion stallion Mystique's Padrino.  She has very correct conformation and outstanding movement with extensions to die for.
VIVAZ HAS BEEN SOLD. 

VA Joya Preciosa
2017 Black PRE Andalusian Filly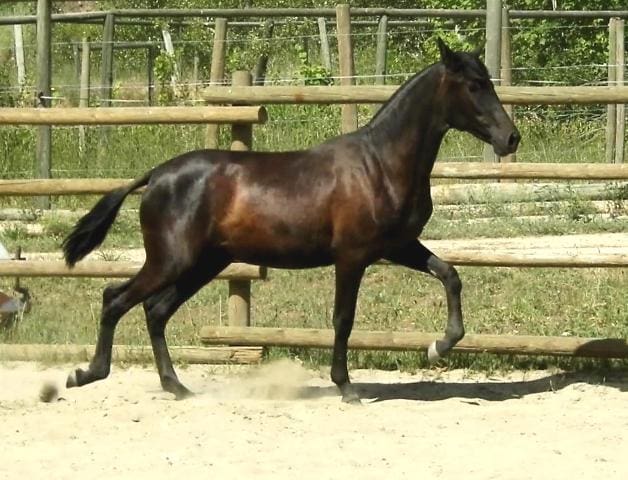 This beautifully moving 2017 Black PRE Andalusian filly is by National Champion stallion Mystique's Padrino and by our sweet mare VMF Gema Preciosa. Padrino is now an exhibition horse and Gema, who broke her hip as a yearling, has always been happy to be a brood mare.  Joya's pedigree speaks for itself going back to greats like Escamillo, Ocioso, Leviton, Genio III, Sandokan and Mystique's Manolete.  Joya has very correct conformation and a stunning head, neck and shoulder.
JOYA HAS BEEN SOLD

VA Alegría
2018 Grey PRE Andalusian Filly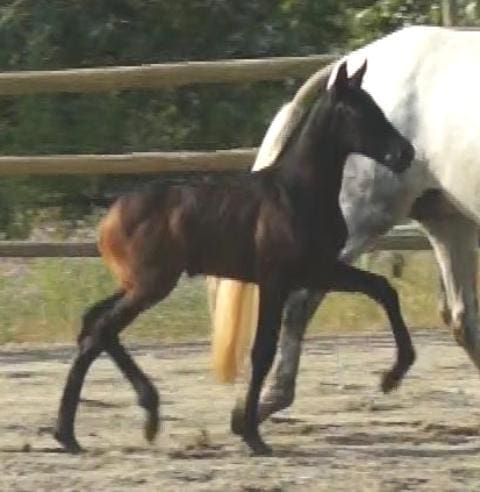 VA Alegría is a very feisty 2018 PRE Andalusian filly.  She has presence and lots of brio.  She has a beautiful shoulder, head and neck with a lovely short back.  With lots of bone to spare, she has incredibly elevated movement with lots of hock action and expression.  Her dam is our mare VMF Gema Preciosa and her sire is our US and Canadian Multi-National Champion 16.3HH Grey Andalusian stallion Norteño Rey MA. Alegria is a champion by rights and has Sandokan, Ocioso and Escamillo in her pedigree. Bred for performance.  DOB – July 21, 2018.  Alegria is now 3 yrs old and about 15.1HH.  She will not be large but will be absolutely perfect for Working Equitation.
ALEGRIA HAS BEEN SOLD.  BIG CONGRATULATIONS TO KAIA ON HER NEW PRE FILLY